You may be surprised at the impact your donation can make.  There are a number of ways
you can assist Assistance League of Arcadia, a nonprofit 501(c)(3) organization to make a
difference.  All funds raised by our chapter go directly back to the San Gabriel Valley
communities we serve.  Please visit our Programs page to learn more about our programs
serving the community.
Consider a donation* of:
- Gently Used Clothing and household items to support our Bargain Box Thrift Store.
- Recent magazines to provide reading material to hospital waiting rooms
- Your helping hands as a communilty volunteer
- Monetary gifts
By Mail
Assistance League of Arcadia
100 S. Santa Anita Avenue
Arcadia, CA 91006
(designate program if desired)
Bargain Box
Assistance League Thrift Shop
Donate new or gently used magazines, clothing, and household items at:
64 E. Live Oak Ave.
Arcadia, CA 91006
10:00-2:30 Tuesday - Saturday
*Your donation may be tax deductible. The chapter may publish the names and/or amounts of a donation in such publications as the community newsletter, Annual Report, and on our website. If you do not wish to have your name/amount published, please inform us at the time of donation.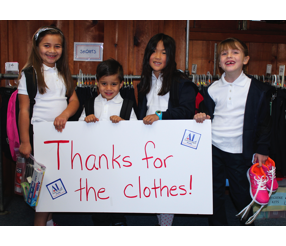 Special thanks to our generous contributors
Arcadia Association of Realtors
Arcadia Chamber of Commerce
Arcadia Chinese Association
Arcadia Senior Men's Club
Edison International
Chino Valley Ranchers
Corvettes Unlimited
Healthcare Partners - DaVita
Alice Murray
Santa Anita Park
Alice Wang
Vons Foundation
and Partners
Alhambra Unified School District
Almansor Center
Arcadia Community Coordinating Council
Arcadia Council PTA
Arcadia Fire Department
Arcadia Firefighter's Association
Arcadia Methodist Hospital
Arcadia Public Library
Arcadia Recreation Department
Arcadia Unified School District
Books for Soldiers
California Thoroughbred Horsemen's Foundation
Duarte Unified School District
EYE-DAS
Foothill Unity Center
Monrovia Fire Department
Monrovia Unified School District
Rosemead School District
San Gabriel Unified School District
Santa Anita Family Services
Temple City Unified School District

Click the logo for GuideStar information.